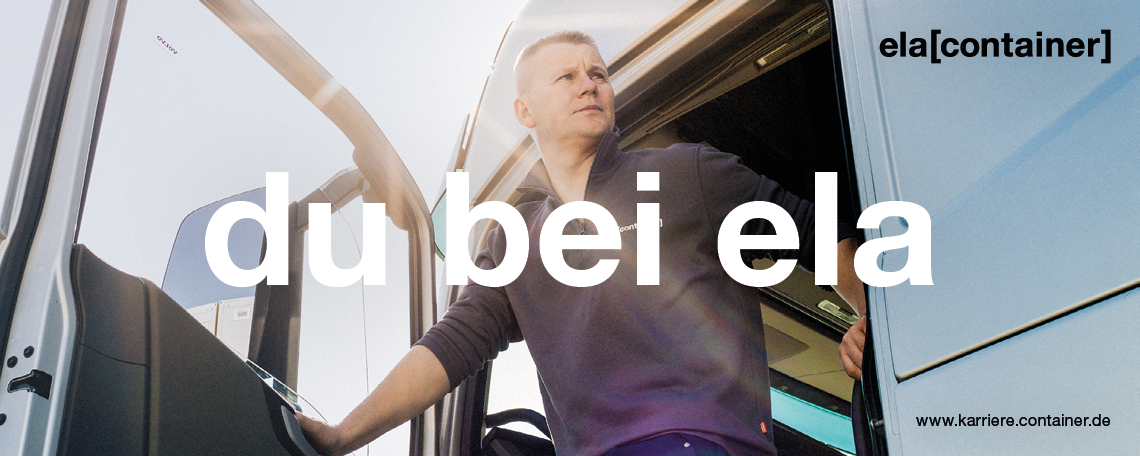 Apprenticeship as a professional driver (m/f/x)

Location: Haren
Working Hours: Apprenticeship

1,200 employees in 20 locations around the world with a fleet of 50,000+ circulating containers. Since ELA's establishment in 1972, our business has continuously been expanding, we are specialists in mobile room solutions. Our family-run company based in Haren (Ems), Germany, is growing at a fast pace and we are actively looking for qualified and dedicated team players to join us locally, internationally and beyond.
You're a person with your individual profile, qualifications, talents and wishes. But we are not like any other company. We offer exciting jobs, opportunities for your further development and an easy going working atmosphere. Interested? Then we should get to know each other better.

Your responsibilities
Professional drivers are mainly involved in freight transport by truck. They spend a lot of time behind the wheel and know the road traffic regulations in Germany and abroad. Before setting off, they carry out a takeover and departure check on the vehicle. In doing so, they check the wheels, the engine and the functionality of the brake systems, for example. They then take delivery of the goods to be transported. They ensure that the weight of the load is evenly distributed and check the documents to be carried as well as the vehicle's signage, which may be required depending on the freight.
Your skills
Completed school education
Technical understanding
Sense of responsibility, prudence and ability to concentrate
Observational accuracy and attention
Ability to make decisions and react quickly
What you can expect from us 
We organize an extensive induction program for you, so that you get to know the entire company, all your colleagues and our products.
Our more than 20 trainees and dual students who are already employed will make it easier for you to start your career and will be on hand at all times to answer any questions you may have.
To keep you fit and healthy, we regularly offer you various health activities and massage appointments.
You also have access to our company gym and benefit from our cooperation with the company fitness provider qualitrain - train in numerous facilities across Germany
At ELA, you can also look forward to a varied job in a global company, an uncomplicated atmosphere and a wide range of opportunities to contribute your own ideas.
How you can apply
Please send your documents via our career website (www.karriere.container.de/en/) or via email (career@ela-container.com) including your CV, your essential certificates and qualifications, as well as a few lines about yourself and why we fit. We would then like to meet and have a personal conversation with you. We look forward to hear from you!


Any questions?
Contact us - by email to our training supervisor Carina Gehring (carina.gehring@container.de), by phone/WhatsApp at +49 170 2233938, on Instagram (ela_container) or by video application.