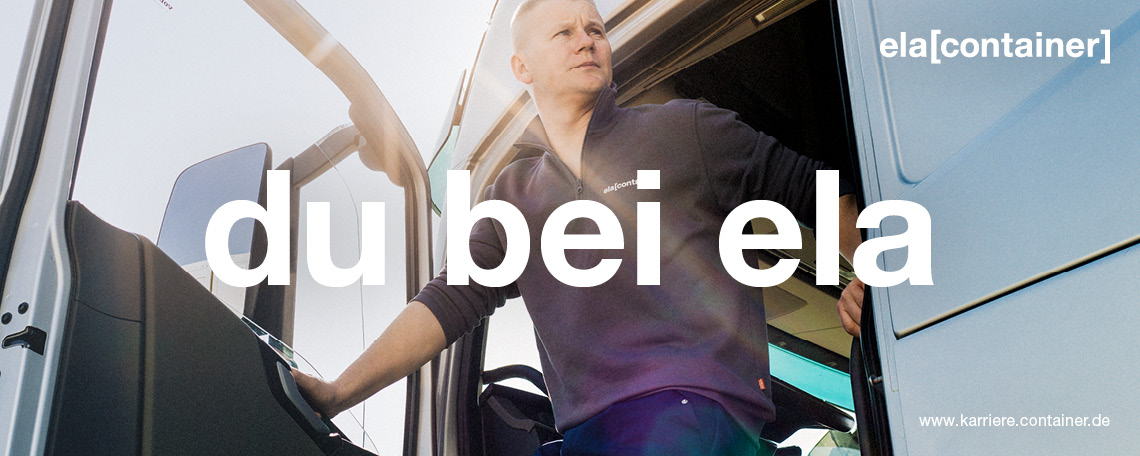 truck driver (m/f/d)

Location: Billigheim
Working Hours: Full-time employee

1,200 employees in 20 locations around the world with a fleet of 50,000+ circulating containers. Since ELA's establishment in 1972, our business has continuously been expanding, we are specialists in mobile room solutions. Our family-run company based in Haren (Ems), Germany, is growing at a fast pace and we are actively looking for qualified and dedicated team players to join us locally, internationally and beyond.

You're a person with your individual profile, qualifications, talents and wishes. But we are not like any other company. We offer exciting jobs, opportunities for your further development and an easy going working atmosphere. Interested? Then we should get to know each other better.
Your responsibilities
Responsibility for loading, delivery and collection of ELA containers
Transport of cargo with excess width (max. 3 meters)
Independent positioning and assembly/disassembly of containers/container systems at the installation site
Your skills 
Reliability, independent work and friendly, open approach to our customers
Pleasure in dealing with technology and manual dexterity
Valid driver's license class CE or class C1E
What you can expect from us 
We offer you a permanent employment contract
We pay you every hour, every break
Usually you are at home in the evening
You have the possibility to drive your own truck from Mercedes, MAN, DAF or Volvo
On large construction sites we will put you up in a hotel
To keep you healthy and fit, we regularly offer you various health campaigns as well as a subsidized membership in qualitrain (Germany-wide company fitness)
We offer you interesting competence trainings
At ELA, you can also look forward to a varied job in a global company and an uncomplicated working environment.
How you can apply
Please send your documents via our career website (www.karriere.container.de/en/) or via email (career@ela-container.com) including your CV, your essential certificates and qualifications, as well as a few lines about yourself and why we fit. We would then like to meet and have a personal conversation with you. We look forward to hear from you!


Any questions?
Contact us via email or WhatsApp/text message on +49 1511 9539616.